What is eToro?
Founded in 2006, eToro is a private social trading, and investment marketplace forum that allows users to trade: stocks, commodities, indices, and currencies. The company's product OpenBook and Web Trader allows traders to learn from each other, share their trade information in real time, and capitalize their power on a social marketing platform.
This company has registered offices in Cyprus, Israel, and the United Kingdom. This social trading platform is headed for the United States open market soon.
OpenBook, a social investment platform, was released by eToro in 2010, and considered to be one of the shining features in this online trading platform. OpenBook allows investors to view, follow and copy the networks top traders automatically with a new feature called Copy-Trading.
This new feature is also compatible with Android apps enabling investors to buy and sell stock on their mobile device. In late 2017, eToro and CoinDash partnered to develop block chain based social trading.
eToro has over eight million accounts in the social trading market. This company has a diverse capability to invest in: stock CFD's, crytocurrencies, and other currencies in a fast paced ever changing market.
In May 2017 eToro announced it will be expanding it's crytocurrency operation to the United States. In addition to the expansion in the US, the company will also be launching its own cryptocurrency exchange desk and a dedicated mobile wallet; in order for you to store all your crypto assets.
The company is opening up the sign up process with a waiting list for anyone interested in the new up and coming US based market. This gives users the option of verifying their registration prior to the official launch, and offers a chance for them to test out a live demo of the platform.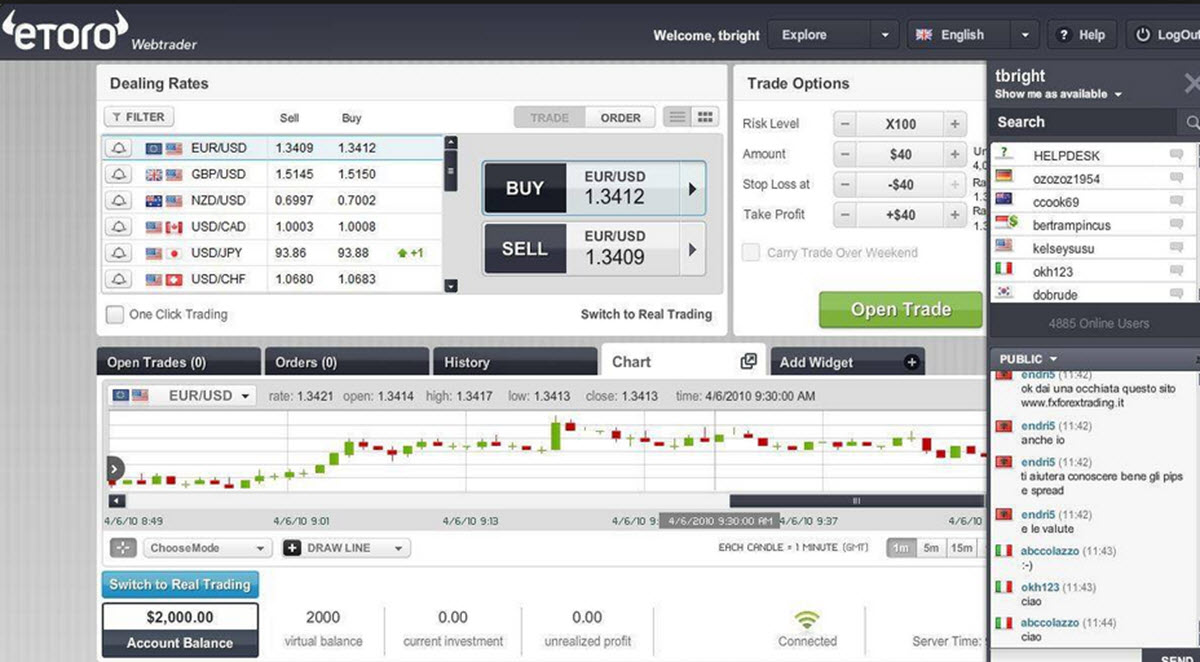 How do I open an account?
First step, start by registering with your email account or with your Facebook / Google account; once completed you can access the trading platform immediately.
The second step is the customer data identification, which happens 100% digitally. You will need to scan or photograph your documents and send them to eToro. For customer identification, you need to upload the copy of passport or personal ID
for customer residency; you upload the copy of your utility bill with the address on.
Once the identification and consumer are complete you can start to deposit.
Who can open an account?
It is fair to state that account opening limitations are very thin; there are some restrictions, and technical limitations stated in the terms and conditions.
eToro does not accept users from the following countries:
USA
Canada
Japan
Brazil
Turkey
North-Korea
Iran
Cuba
Sudan
Syria
Funding Options
Debit/Credit card
Wire transfer
PayPal
Skrill
Neteller
Webmoney
Major exchange lists offered:
NYSE
NASDAQ
London
Frankfurt
Paris
Madrid
Milan
Zurich
Minimum funding requirements
A minimum first-time deposit is $200, but for residents of Israel $10. It is not clear for what happens when your account balance goes below the level of the minimum first-time deposit.
Money withdrawal methods at eToro:
Credit card
PayPal
Bank transfer
*eToro charges a flat withdrawal fee of 25 USD on every withdrawal.
Pros and Cons
Pros of eToro
eToro has a fun, easy-to-use web and mobile platform.  It has innovative features like: social trading, allowing you to copy others, and CopyFunds, which allows divers It is very easy to open an account and start trading.
etoro guarantees to close your positions if you lack sufficient funds for the margin.  What this means is that they protect you by making sure that your account can never go below zero. Negative balance protection makes the trade a lot less risky and prevent you from loosing more money then you deposited to the broker.
eToro allows you to makes trade based on more then 10 different crypto currencies.
eToro lets users make investments manually by doing their own research. They also makes it easy to copy trades made by another trader.  You can ask eToro to copy all trades made by another trader. This allows you to trade like a skilled trader without knowing anything about trading.  Traders that get copied earn money.  Everybody wins.
The list includes: 
BitCoin BTC
BitCoin Cash BTH
Ethereum (ETH)
Ripple (XRP), Dash (DASH),
Litecoin (LTC),
Ethereum Classic (ETC),
Stellar Lumens (XLM)
NEO (NEO)
Cons of eToro
eToro has unreliable customer service, and its trading platform freezes sometimes. Also, an online broker is considered secure if it is either listed on a stock exchange, or it is owned by a bank; eToro does not comply with either of these requirements.
You can only used a limited number of methods to deposit and withdraw money.   The limitations differ between different countries.  This will not be an issue for most users but might be an issue if you want to use a certain service to deposit money. You will have to pay a conversion fee if you deposit money in a currency other then USD.
Special Features
eToro pride themselves on their hard work trying to innovate how people invest. Besides the traditional trading element, it has two distinctive innovations; CopyTrades, and CopyFunds.
CopyTrades is social trading where you select who to follow; when selecting a trader to follow, you can see their previous performance on a yearly, and monthly breakdown.You can see a lot of different key data about the traders you chose to follow.
Summary
This platform is recommended for social trading, and following other traders' trades. eToro focuses on simplicity and a user-friendly platform, so that more diverse groups will feel welcomed into the global crypto community.