Metatrader or (MT4) is a trading software platform; it is the most famous trading platform in today's market; popular in the Forex Market. MetaTrader 4 platform offers a rich and user-friendly interface, in a highly customization trading environment to help improve your trading performance. This software is the first choice for Forex traders; Forex, also known as foreign exchange, FX or currency trading market, is a decentralized global market where all the world's currencies trade.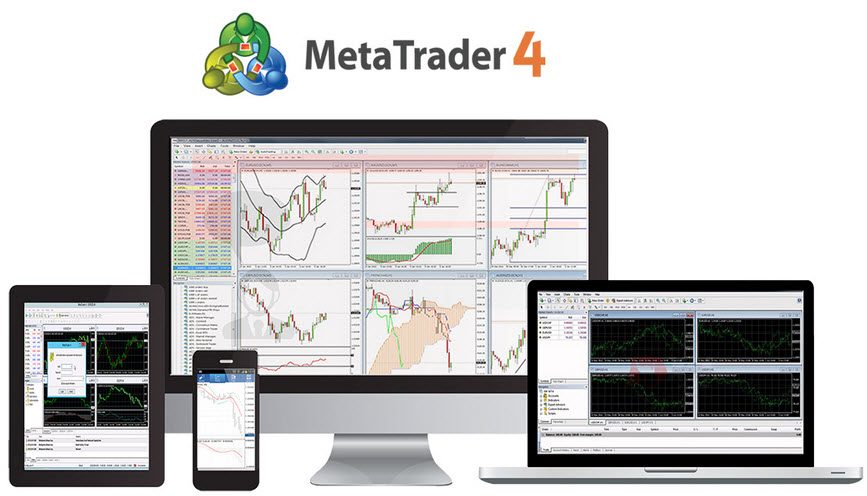 What is Forex?
The FOREX market is the largest market in the world.  It turns over more than a trillion USD a day.  The FOREX market is the market where different currencies are traded, where people exchange one currency against another.  If you buy money of another currency for your vacation then you have traded on the FOREX market.
The FOREX market used to be closed for retails investors but is now open to anyone  and anyone can make money by buying and selling different currencies.  The value of different currencies against all other currencies goes up and down many times every second.  This allows a skilled trader to move in and and out of the market making a lot of money from small market movements.
What is MetaTrader (MT4)?
MT4 is classified as a web trader software.
What is web trader software?
Web trader software is downloaded to your personal computer and is used to trade on the market; this software allows you to exchange on the Forex markets with efficiency.
MetaTrader 4 software allows you to implement strategies of any complexity in the trader market.
MT4 is very popular among skilled experienced traders because ti allows the trader to monitor a lot of different information on the screen simultaneously.   The trader can modify the software to display exactly the data they want to see and can decide where on the screen different data should be displayed.  The software uses a simple drag and drop system to move different modules in to different spots on the screen.
Many brokers will give you access to MT4 for free if you are a customer of their brokerage service.
Features of Metatrader 4
MetaTrader is software that doesn't overload your computer, and doesn't make your computer slow.
MetaTrader has a lot of features and abilities; you can open the price charts, follow the markets price fluctuations, and analyze the financial charts. Another very useful feat re available in MetaTrader4 is that you can set the software up to automatically produce detailed reports of all trades that you make.  This makes it easier to analyze your trades and see where you can improve.
You can plot trendlines on the charts, analyze the charts, and locate the trade setups in your trading market; with MetaTrader 4, trading becomes flexible and convenient.
One of the most important feature that MT4 offer is that the platform is lightning fast. There is almost no latency at all. This makes it easier to make money because you are able to act on all opportunities that you spot in the markets.  Opportunities that you might not be able to act on if you used a software with more latency. Latency might make it to late to act when you spot the opportunities  or prevent you from successfully place to order to capitalize on the opportunities.
MT4 give you access to a large library of different indicators that you can build your trading strategy around. It also makes it easy to create your own indicators.
Why MT4 is a popular platform for traders:
MT4 is favored as a platform because of its many functions and features
Key Features of MetaTrader 4 (MT4):
Create custom trading templates or choose from predesigned templates
Over two decades of historical data so you can back-test your Expert Advisors
Multiple order types including Market Orders and Pending Orders.
One Click Trading
Pre-installed Indicators and analysis tools
80+ markets including currencies, metals, commodities, indices, and crypto currencies
Fixed spreads for price transparency
You can place orders and set stop loss targets
Set trailing stop loss and pending orders.
You can follow the news and trends in the market
Possibility to automate trading
Wide choice of instruments
Accessible, user-friendly interface
More than 50 indicators
Can run multiple accounts
Multi-currency and multi-language support
Interactive charts
Smartphone apps
Advanced Features of MT4
market orders
stop orders and a trailing stop
execution modes
pending orders
Brief analysis of MetaTrader (MT4)
Analytical functions are one of the MetaTrader 4 platform's strongest points.
One of the main features that this software offers are the very good market analysis tools included in MT4.
Online quotes and interactive charts, with nine periods that allow you to: examine quotes and all of their details, allowing you to quickly responding to any price changes.
Basic Analytical Overview of MT4
9 timeframes
23 analytical objects
30 built in technical indicators
The free Code Base and built-in Market provide thousands of additional indicators raising the amount of analytical options; allowing you to trade in a highly competitive market.
Summary
MetaTrader4 (MT4) is not only for the experienced trader, but it is also for beginner traders, due to its user friendly interface software technologies. It is highly renowned in the trading world; and usually is a go to for first time investors because of all of its advanced key features, user friendly interface, and advanced key features. Once you have obtained your MetaTrader 4 software it is easy to get started on the trading platform. There are many online tutorials, and MetraTrader 4 beginner guides, online for the novice user. This program allows you to integrate quickly in today's trading Forex market; enabling you to trade with big time competitors, and possibly sees quick returns on your new investment.