Metatrader or (MT5) is a trading software platform; it is the new software in the Metatrader trading platform following its predecessor, MetaTrader 4 (MT4), one of the most famous trading platforms in today's market.

MetaTrader 5 or (MT5), platform offers a rich and user-friendly interface, in a highly customizable trading environment to help improve your trading performance, as opposed to MT4 which exclusively caters to the decentralized trading on the Forex market. MT5 is more for stocks and commodities which is a more centralized market than Forex currency markets. In order to understand how the two software programs differ I have included a brief overview of Forex.
What is Forex?
Forex stands for Foreign Exchange trading is a trade where you buy and sell different currencies.  The value of currencies are constantly fluctuating and you can use these fluctuations to make money. It's the largest market in the world and traders all over the world trade currencies.  When you go on a trip and convert your US dollars for Euros, you're participating in the global foreign exchange market. A long row of different factor will decide whether a currency goes up or down in value compared to another currency.
What is MetaTrader (MT5)?
MT5 is classified as web trader software used for stocks and commodities.
What is web trader software?
Web trader software is downloaded to your personal computer and is used to trade on the market; this software allows you to exchange on the stock markets with efficiency.
MetaTrader 5 MT5
MetaTrader 5 is a multi positive feature platform offering outstanding trading possibilities. Some features include: technical analysis tools, as well as enabling the use of automated trading systems (trading robots), and copy trading.
MetaTrader 5 was released in 2010.  It is not an updated version of MetaTrader 4.  This is a common misconception.  It is a completely different trading platform designed to be suitable for other traders and other tasks then MT4.  Which version is best for you depends on your trading preferences.  Many trader benefits from having both.
Metatrader 5 is sometimes considered to be for the more advanced trader, or a trader that has some previous brokerage experience. With that being said, MT5 is still an option if you are a newer trader, or just getting started in an online brokerage market or firm. Most big brokerage firms that trade in many commodities and markets will use MetaTrader 5, as opposed to the latter version Metatrader 4 or (MT4).
What Can MetaTrader 5 do compared to its predecessor?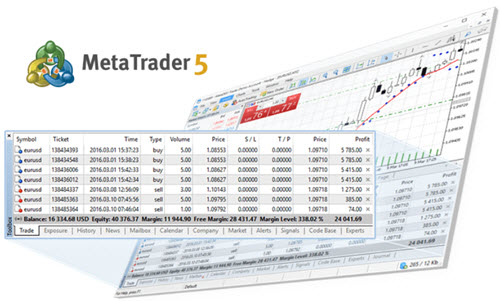 Metatrader 5 was actually designed to do some things that Metatrader 4 could not do. In reality, it was aimed at a different market, and thus, there is really very little reason to enter a discussion about MT4 vs. MT5
One of the major differential design factors, is its compliance with the U.S.A.'s "no hedging rule", which states that clients of Forex brokers in the U.S.A. must deal on a F.I.F.O. (first in, first out) basis.
Metatrader 5 is designed to be used for any type of trading.  Not just FOREX trading.  It is a software that works well for retail investors trading stocks and commodities. .
Forex, is a completely decentralized market, with a number of major players providing profit into this huge market; at slightly different prices, in an uncoordinated fashion. Stocks and commodities, the latter of which is traded largely, as a futures contract, must usually be traded through a centralized process before ownership can change hands with full legal effect.
The major improvements made on this version include the following:
Offers more markets (commodities, indices, and equity CFDs) depending on the broker
Six types of pending orders and two types of stop orders (MT4 only has four types of pending orders)
Integrated MQL forex market products tab for EAs
Improved Strategy Tester for EAs, with Agent Manager for remote optimization
Additional chart time frames (M1, M2, MI3, MI: Ghost Protocol, MI: Rogue Nation
Additional technical indicators, 22 analytical objects, and 46 graphical objects
7 types of hourly charts, plus the daily, weekly, and yearly time frames of the charts
11 types of minute charts
Built-in economic calendar tab with release schedules, level of impact, previous data, and market consensus
Additional technical indicators, 22 analytical objects, and 46 graphical objects
MetaTrader 5 is an all-in-one platform for trading Forex, Stocks and Futures.   FxPro or MT5 was awarded Best MT5 Broker on the latest UK Forex Awards 2016. It is one of the United Kingdoms crown jewel in the London based market, which is why it is so wildly popular and be awarded such prestige. The US based market also uses MetaTrader 5 in advanced markets, or brokerage firms as well.
Best brokers for Metrader 5
IQ Option:  Recommended broker. Read IQ option review
ForexTime FXTM MT5
NordFX MT5
Swissquotes MT5
Admiral Markets MT5
Active Trades MT5
Importance note: systems coded using MQL4 are not compatible with MQL5 or MT5. 
Summary 

If you believe that "less is more", and you'd rather stick to the essentials of straight up forex trading, then you might be better off using the more straightforward MT4 platform. On the other hand, if you like the flashy new features, and a jam-packed menu of options, MT5 might have just what you need. Choosing which platform is best for you will take some research, and a clear knowledge of what your market trading goals are imagined to be.