Day Trading Software
For beginners, the financial term Day trading/ Day Trading Software might as well be a foreign language. If you are just getting started, or even if you are an expert online trader this article is for you.
First you should understand what Day Trading is, so you can best choose your software and Trading Platform.
What is Day Trading?
Day trading is the art trading, buying or selling of stocks and commodities in a short timeframe, typically just a day. The goal is to earn a tiny profit on each trade, and then compound those gains over time.
How does day trading work?
Day traders rely heavily on stock's and the market's fluctuations to earn their profits.
What Tools do I need to use day trading software?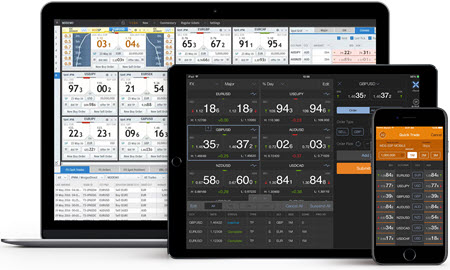 Mac or Windows?

Who need to choose software that works well on your computer or laptop. A software that works poorly or crashes might end up costing you a lot of money in lost profits or unnecessary loses. There is good software available that work well on both PC and Mac.
Many new traders make the beginner mistake of using the wrong tools. Using the right day trading software and day trading tools is critical to your success. While a skilled trader can make do with less than ideal tools, beginner traders need every advantage possible.
What is Day Trading Software?
Day Trading Software is software usually provided by brokerage firms that enable their clients to trade financial products, and manage their accounts. Popular day trading software include Meta Trader 4 and Meta trader 5.
Day trading software is the general name for any software that helps you analyze, decide on, and make trades. It may grant you access to all the technical analysis, indicator tools, or resources you need. The best software may also identify trades, and even automate or execute them in line with your strategy.
Trading software implements trading of financial products such as stocks, commodities, and currencies; software is usually provided by brokerage firms that enable their clients to trade financial products, and manage their accounts.
The features and functions available may differ from one software package to the next and may come in different versions. Apart from brokers, independent vendors also provide day-trading software, which tends to have more advanced features.
Popular software
MetaTrader 4 (MT4)

Overview: Released in 2005 by MetaQuotes Software, MT4 is one of the most widely adopted platforms, especially for forex trading. Its user-friendly interface, robust charting, and automated trading capabilities (through Expert Advisors) have made it a favourite among novice and seasoned traders alike.

MetaTrader 5 (MT5)

Overview: As the successor to MT4, MT5 offers all the beloved features of its predecessor, with the addition of more timeframes, more order types, an economic calendar, and capabilities for trading a broader range of assets beyond just forex. MT4 remains more popular

cTrader

Overview: Known for its intuitive interface and transparent pricing, cTrader is popular among forex and CFD traders. It offers advanced charting tools, level II pricing, and automated trading via cAlgo.

Thinkorswim

Overview: Developed by TD Ameritrade, Thinkorswim provides a versatile platform for trading stocks, options, and futures. It's known for its powerful charting tools, simulated trading, and customizable interface.

NinjaTrader

Overview: Preferred by advanced traders, NinjaTrader offers advanced charting and analysis capabilities. It is highly customizable, allowing traders to tailor the platform to their needs, and is particularly popular for futures trading.
Key things to know about Day trading software
Data – Before you start trading for the day you need to know the prices of the stocks, futures, and currencies you want to trade.
Trade execution – With your data in hand, and after analyzing it on a chart; at some point, you'll want to enter a trade. To be able to do that you will need to sign up with a broker and get access to a trading platform. A lot of software today will also allow you to develop your own trading strategies with an application programming interface (API). They might also allow you to automate your trading by using signals or by copying other traders transactions.
Charting – Successful trading will usually use good TA charting software. Many vendors will also offer data feeds. These softwares will allow you to generate trading signals based on technical analysis. Select a more advanced package, and you can benefit from more indicators, and the ability to backtest your strategies.
Broker vs. Independent vendor – A lot of brokers will offer software directly linked to their in-house systems, but you can also use third-party applications through independent software vendors; with brokers that support such incorporation. Third-party software will usually offer more and better features than the software you get for free with your account.
Key Elements in choosing the right software
–Choosing the right software/ Speed of your software
– Pick your platform based on your trading style
NOTE: This is an ever changing, dynamic market
Key Basic Features of Day Trading Software
Functionality-allows the setup of trading strategy (based on technical indicators, news, trading signals or pattern recognition) in the trading system.
Automated order-placing function, automated direct marketing (usually with Direct Market Access) once the criteria are met.
Analytical tools- continue assessment of existing holdings (if any); market developments and features to accordingly act on them.
Enhanced features of day trading software
–Sell Opportunities
Continue to look for sell opportunities at identified prices for a specific time. If no opportunities are identified in the specified time, square off the position at a loss.
-Stop Limits
Set stop-loss limits and square off the buy order, if the limit is hit.
-Averaging Technique
Switch to an averaging technique—buy more stocks at lower prices to reduce the overall price.
Choosing the Right Day-Trading Software
Automated Software
Automated software is a program that runs on a computer and trades for the person running the program.
It is hard to create good software, and much of the software on the market is not very good.  To be able to create good software you need to have a team that are skilled programmers and who have in-depth trading knowledge; automated trading is the truest test of whether a strategy is feasible or not. Manual trading has too many variables.
There are a number of different automatic trading software available on the market. Examples of automatic trading software include Expert Advisors (EAs), robotic trading, program trading, automated trading or black-box trading.
Note
Before you buy into the hype, research free day trading software; there are many free online day trading software to choose from for beginners.